Our Mission:
Chiquita's Friends mission is to rescue, provide sanctuary and veterinarian care, and adopt out to suitable homes, senior, special needs, and neglected canines through our own hands on efforts as well as offering financial support to other tax-exempt organizations with similar goals.
ABOUT CHIQUITA'S FRIENDS FOUNDER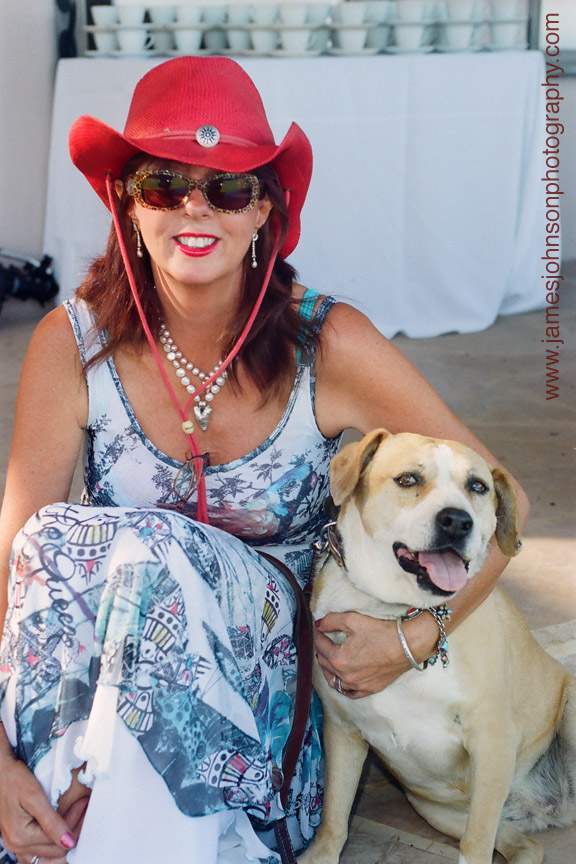 Geraldine Gililand's mother should have let her have a dog when she was a child. Instead, Geraldine has spent her adult life—since her arrival in the US from Ireland in 1975—rescuing and caring for dogs in need. In 1989 she married Theodore Lonsway, a man equally passionate about dogs. By 1995 when Theodore and Geraldine relocated to Malibu to build their dream home, they had seven dogs along for the adventure. Soon they added seven cats and several more dogs, all in a 750 square foot home on the property where they would soon build their dream home.

Beginning in 1994, Geraldine and Theodore organized and put on multiple fundraisers for a variety of animal rescue organizations as another way of helping even more animals.

When Geraldine and Theodore built their home on the property nestled high in the Malibu mountains, they named it "Rancho Chiquita" after their rescued beagle and pit-bull mix, Chiquita, who came to them neglected and abused, with a broken leg and a scarred heart. Geraldine lovingly nursed Chiquita back to health, watching and cheering as Chiquita grew into a confident and beloved companion—a feat Geraldine would accomplish again and again in the years to come as she continued to take in the old, the neglected, and the unwanted dogs from throughout Los Angeles. She rescued dogs like Carlos, Charlie, Goldie, Carmen, George, Gilbert, Palomo, and Lily, all down on their luck until Geraldine came along.

When Theodore passed away on Christmas Day in 2003, Geraldine was able to move on through her grief in large part because of her precious animals and their undying devotion. In 2007 tragedy struck again when her guest house burned to the ground in the Corral Canyon fire. All animals and humans survived, and Geraldine again pushed forward, rebuilding, determined to continue hosting fundraisers for animals and saving even more dogs. Geraldine also hosted many fundraisers for her close knit Corral Canyon community after the fire, including " An Evening under the Corral Canyon Sky" featuring a concert by the band America.

Always generous with her time and talents, Geraldine continued hosting events for non-profits such as Robert Cabral's "Bound Angels," California Wildlife Center, K9 Connection, Beagle Freedom Project, and Meade Canine Rescue. With the goal of doing even more for the animals, she launched "Chiquita's Friends" as a 501c3 non-profit in 2011.

In 2017 another dream of Geraldine's came true when she purchased a ranch in the hills of Cornell California where Chiquita's Friends would have the opportunity to expand their rescue efforts, bringing more gorgeous animals to a safe and blissful sanctuary where they can experience the love and tender care they deserve. Geraldine, a frequent visitor to Mexico, also began rescuing Tijuana street dogs.

Sadly, a setback again occurred in the devastating Woolsey fire of November 2018 when the caretaker's property, and the goat shed on the Cornell ranch burned down. Again, all animals and humans survived, but it took months before animals could be returned. As of 2019, five dogs (and their caretaker) reside on the property, including Nicholas, a Mexican street dog born with deformed front paws, and Patches, an adorable Jack Russell Terrier / chihuahua looking mix puppy, one of three puppies found abandoned under a building in Tijuana (his brothers were adopted out).

A passionate person by nature, Geraldine devotes herself to the neediest of dogs and refuses to give up on any of them. As a renowned chef, author, and restaurateur (Bon Appetit magazine once named her one of the top six chefs in the United States), Geraldine Gilliland could choose to live a glamourous life relaxing at Rancho Chiquita, high in the hills over Malibu. She chooses instead to live her life in service to neglected and abused dogs, young and old, sometimes ill or disabled, because she knows every dog deserves a warm bed, a safe home, and the love of a human companion. Through Chiquita's Friends, Geraldine Gilliland strives to offer just that to as many dogs as she can reach for as long as she can.